For Healthy Nails, Youthful Glow and Acne-Free Skin
Regular price
Rs. 1,498.00
Sale price
Rs. 999.00
Unit price
per
Sale
Sold out
✨ Unlock Your Beauty Transformation with Projoy Skin and Nail Probiotic! ✨

Are you ready to embark on your beauty transformation? Embrace the Projoy Skin and Nail Probiotic experience and witness the incredible difference in your skin and nails. Discover the joy of hydrated, radiant, and smooth skin, and bid farewell to those skin concerns that have been holding you back.
✨ Experience the Projoy difference and reveal the beauty you've always had within! ✨

✨ Before: Wrinkles, Dark Spots, Acne, Eczema, and Chipped Nails ✨ We all have our skin and nail struggles, but it's time to say goodbye to those pesky imperfections. Are wrinkles, dark spots, acne, eczema, and chipped nails holding you back from embracing your true beauty? Not anymore!
✨ After: Hydrated, Radiant, Smooth Skin, Rash-Free, and Resilient Nails ✨ Introducing Projoy Skin and Nail Probiotic – your ultimate solution for a beauty transformation like no other. Witness the stunning difference as your skin and nails undergo a remarkable evolution. Hydrated, radiant, smooth skin awaits you, free from blemishes and eczema. Say hello to nails that are not only resilient but also boast a flawless appearance.
✨ Unleash Your True Potential ✨
Projoy Skin and Nail Probiotic doesn't just provide superficial results; it works holistically to support your inner beauty. By nourishing your gut with the help of probiotics, such as Lactobacillus paracasei and Bifidobacterium bifidum, it supports a healthy digestive system and enhances nutrient absorption, leading to radiant skin and strong, healthy nails.
Ingred. & Nutr. Facts 
Ingredients
Probiotics [20 Billion CFU]: Lactobacillus acidophilus, Lactobacillus brevis, Lactobacillus paracasei, Lactobacillus plantarum, Lactobacillus rhamnosus, Lactobacillus kefiranofaciens, Bifidobacterium bifidum
Prebiotics [1 gram/serving]: FOS, Guar Gum, and Maltodextrin
Other Ingredients: Xanthan Gum, Milk Solids, and Vanilla
Shelf life: 18 months from date of manufacture 
Storage: Store in a cool and dry place
Nutritional Facts (Per Serving, 10 g)
Energy: 29 kcal
Protein: 2.6 g

Fat: 1.3 g

Carbohydrates: 2 g

Dietary fiber: 1 g

Added sugar: 0 g

Calcium: 37 mg
How to Use
Consume one tablespoon (~10 grams) of Projoy Probiotics powder per day, and take it with breakfast or meals.
Mix the powder with your favourite beverage or

water or milk

, stir well and enjoy!
Alternatively, you can consume the

powder directly as it is

, without mixing it with any other liquid or food
Check out our recipe page for a variety of delicious ways to incorporate probiotics into your diet.
FAQs
Q: How does Projoy Clear Skin Probiotic with Prebiotics help improve skin and nail health?
A: Our supplement is formulated with probiotic strains that help to strengthen the skin's barrier, promote skin hydration and elasticity, minimize inflammation and redness, and prevent acne and breakouts. By balancing gut bacteria, our supplement can also improve overall skin and nail health.
Q: What are probiotics and prebiotics?
A: Probiotics are live bacteria that are beneficial to the gut microbiome, while prebiotics are a type of fiber that helps to feed these bacteria. Together, they can help to improve gut health and boost the immune system, which can in turn improve skin health.
Q: Is Projoy Clear Skin Probiotic with Prebiotics safe to take?
A: Yes! Our supplement is made from all-natural ingredients and is free from harmful chemicals and additives. It's also suitable for vegetarians and is easy to take - simply swallow with water.
Q: How do I take Projoy Clear Skin Probiotic with Prebiotics?
A: It's easy! Simply Eat one tablespoon per day and drink a glass of water.
Q: When can I expect to see results?
A: Results may vary, but many people begin to notice improvements in their skin and nail health within a few weeks of taking our supplement. It's important to take our supplement regularly as directed for best results.
Share
View full details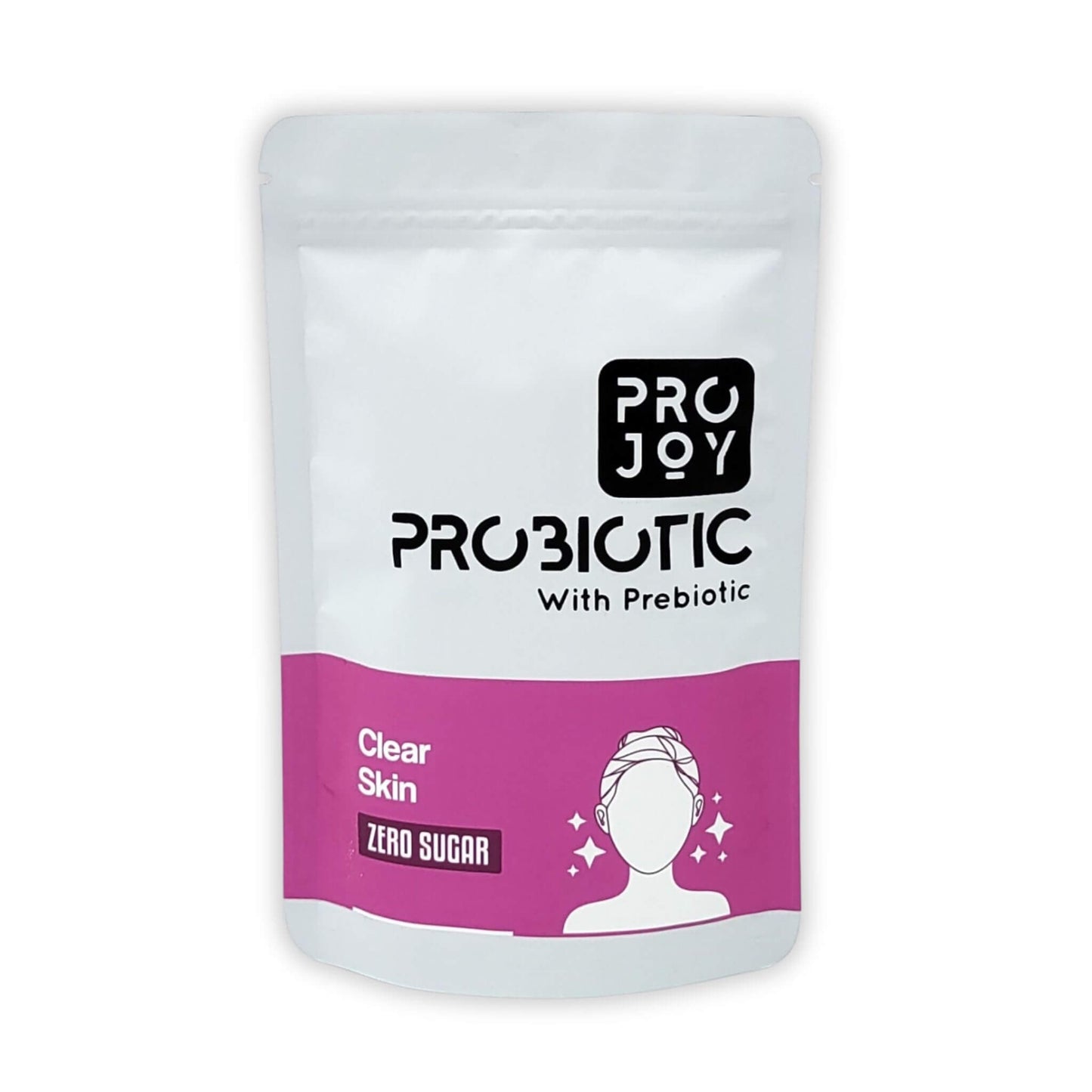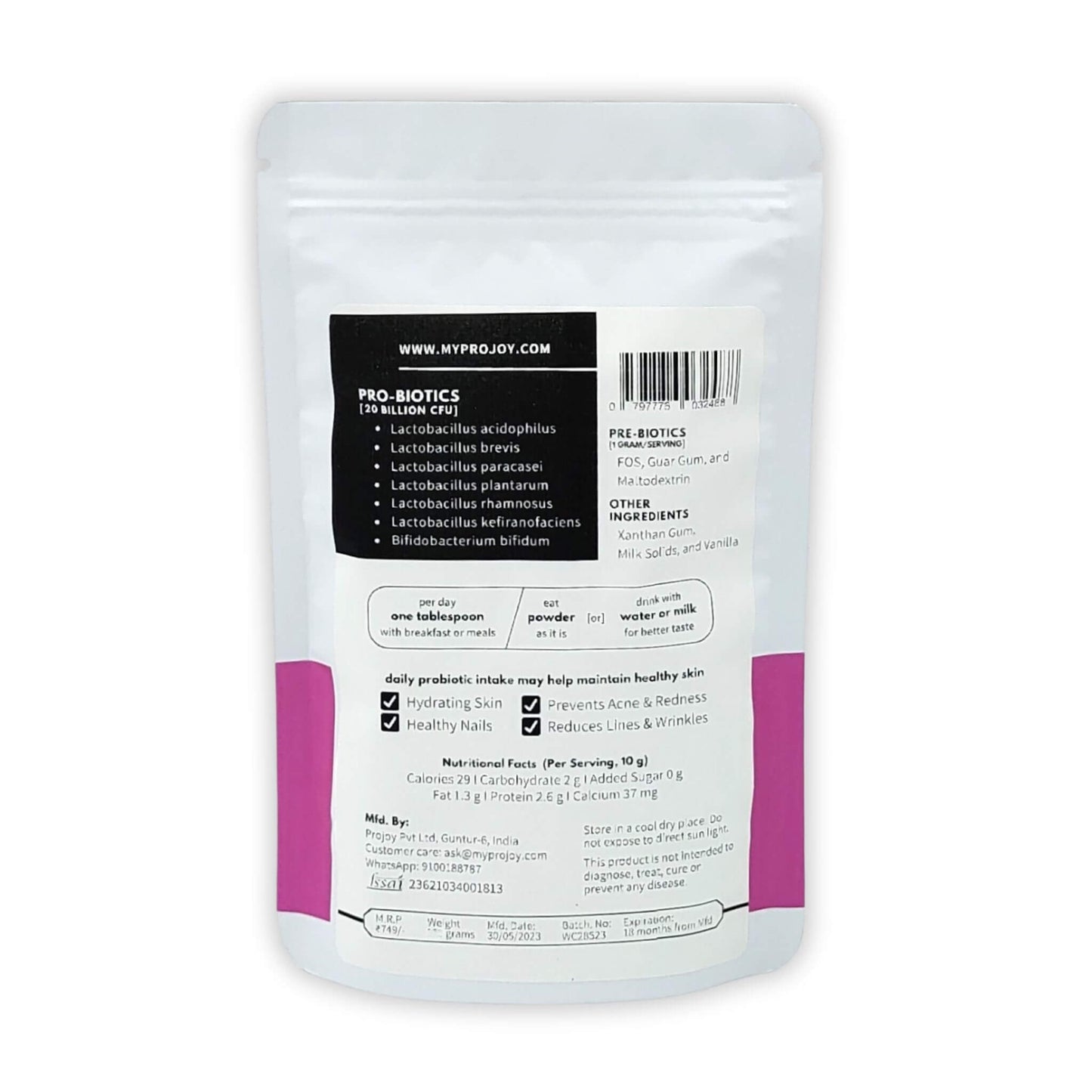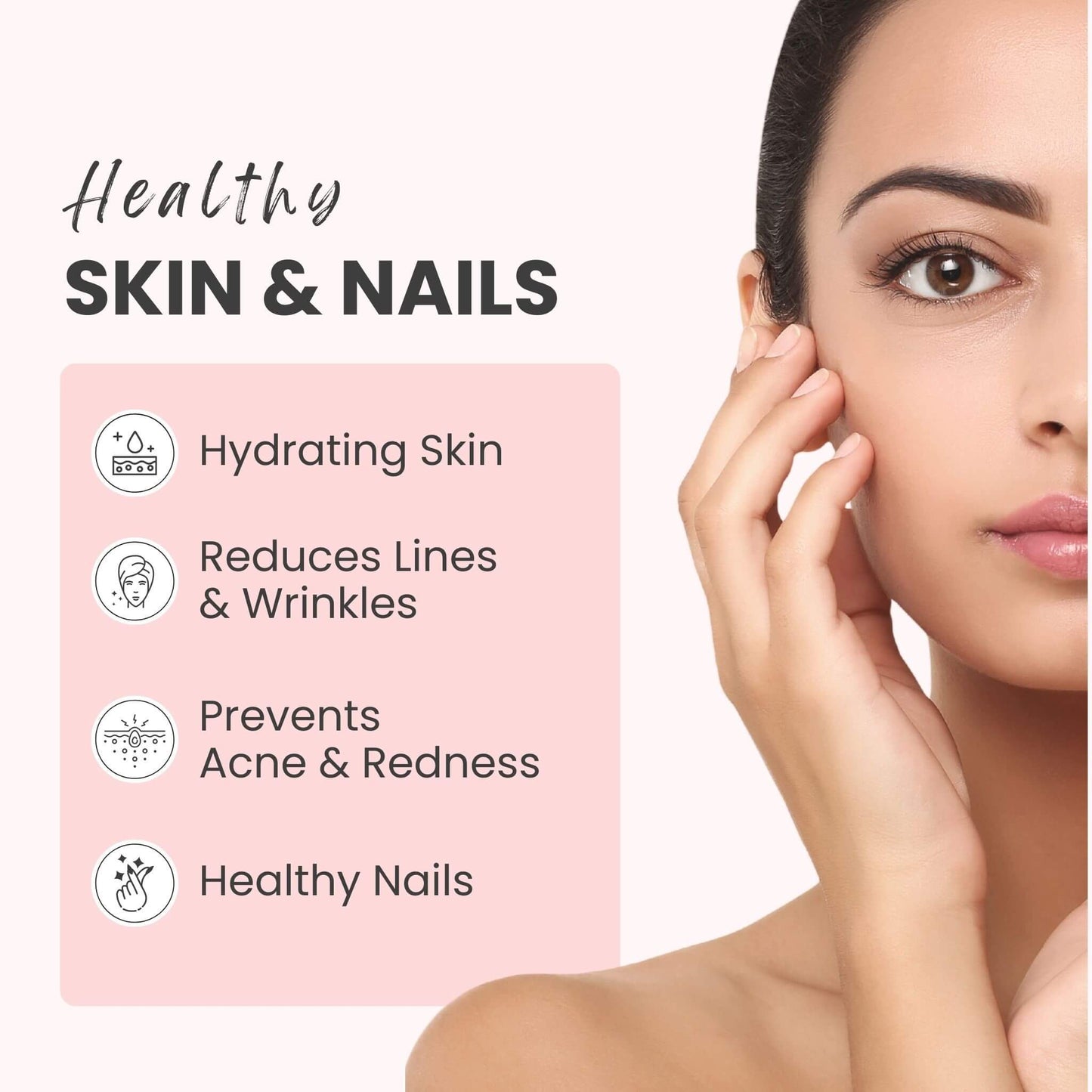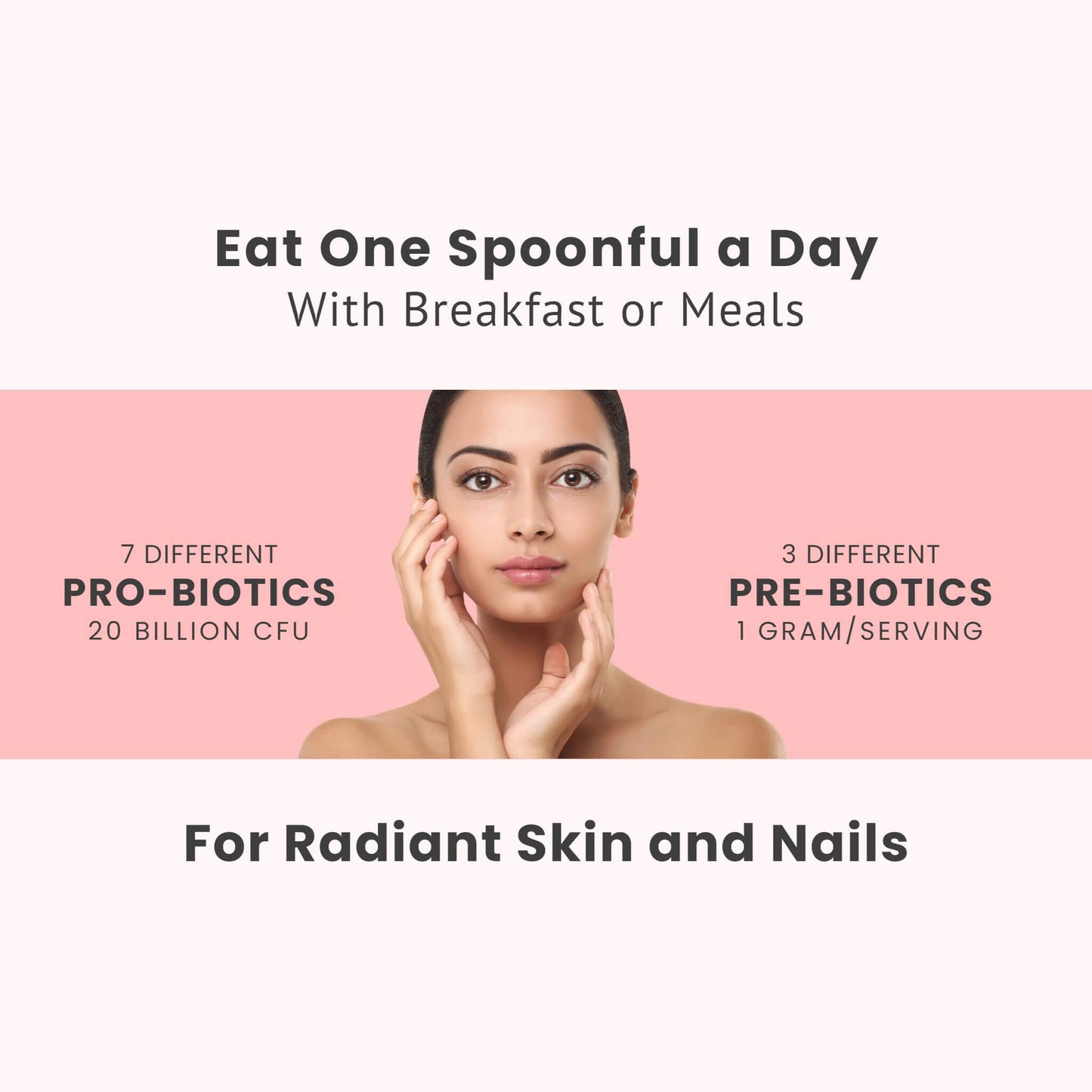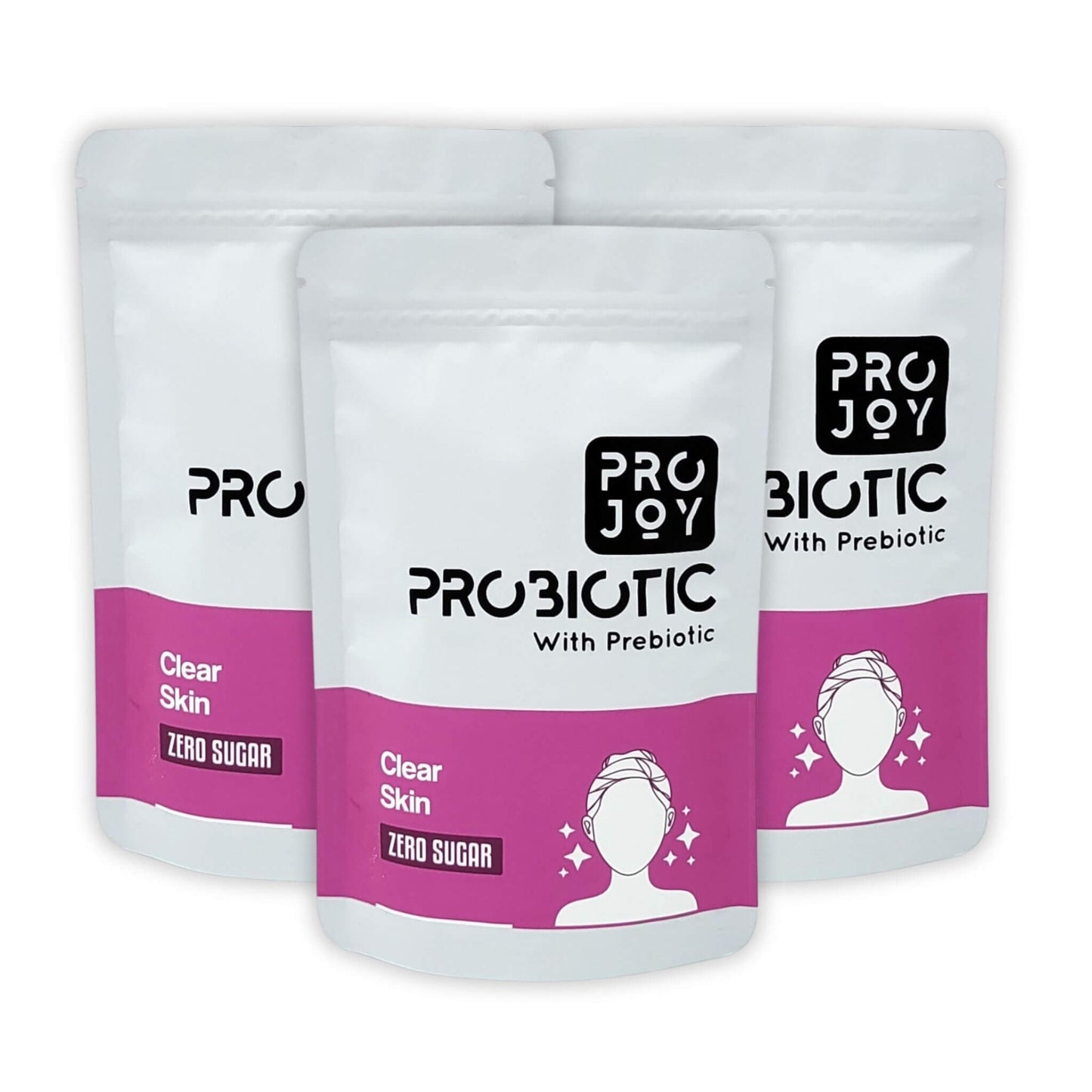 Awesome results
I tried multiple solutions for my skin issues like dark spots and acne but nothing was working out.
After I saw post on FB, I explored about Probiotics and decided to try it. To my surprise it worked wonderfully and now skin is healthy and glowing ✨. I consume it daily in morning.
Recommended!!!
Thank you for your words of encouragement.
My digestion is improving and this month not getting much pimples.
I was a little hesitant before for taste but the taste is good. I can see that I am less bloating and have a slight improvement in my skin acne.