Relieve Acid Reflux Naturally
Regular price
Rs. 1,498.00
Sale price
Rs. 899.00
Unit price
per
Sale
Sold out
Key Benefits
🔥 Suffering from Acid Reflux? GERD got you down? Say hello to soothing relief with Projoy! 🔥
👉Projoy Acidity Relief Probiotic with Prebiotic is specially crafted to provide you with the soothing relief you deserve. Our powerful blend of natural ingredients works harmoniously to ease the discomfort caused by GERD, acidity, acid reflux, and heartburn.
🌱 Soothes GERD: Projoy helps alleviate the symptoms of GERD, allowing you to enjoy meals without worry.
🌱 Calms Acidity: Experience relief from the burning sensation and discomfort caused by excessive acidity. Projoy is your secret weapon against acid overload.
🌱 Eases Acid Reflux: Bid farewell to the nagging sensation of acid reflux. Projoy's soothing formula helps restore balance and calmness to your digestive system.
🌱 Relieves Heartburn: Say goodbye to heartburn's fiery grip. Projoy's natural blend gently soothes the discomfort and helps you find relief.
Take control of your digestive health today and embrace a life free from acid reflux and discomfort. Trust Projoy for soothing relief that comes straight from nature.

🌿 Experience the power of nature with Projoy's 100% Natural & Safe formula. 🌿
🌱 Witness the power of Projoy in improving your gut health and transforming your well-being! 🌱
➡️ Before: Acidic Taste, the lingering reminder of discomfort. Burning Sensation is an unwelcome guest that overstays its welcome. Chest Discomfort is a constant reminder of the havoc within. Nausea is a queasy sensation that disrupts your day. Upset Stomach, the source of endless frustration.
⬅️ After: Alleviation, the sweet relief from acidity's grip. Soothing Relief, a gentle embrace that calms the storm. Calm Digestion, a harmonious balance restored. Settled Stomach, a quiet reassurance of tranquility. Refreshing Comfort, a sigh of contentment as your gut finds peace.
🌱 Witness the remarkable transformation in your gut health as Projoy's unique blend of probiotics and prebiotics takes effect. With each day, you'll embark on a journey towards alleviating acid-induced symptoms, experiencing soothing relief, cultivating calm digestion, enjoying a settled stomach, and relishing in refreshing comfort.

🌟 One Spoonful A Day: Your Path to Improved Digestion! 🌟
 ➡️ Just one spoonful of Projoy Acidity Relief Probiotic with Prebiotic is all it takes to experience the transformation you've been longing for. Embrace a life free from the shackles of acid reflux and digestive discomfort.
⏰ Time: Morning, afternoon, or evening, whatever works for you.
🌿 Dose: The recommended dosage is one spoon per day, but you can take three  spoons if you are experiencing a severe problem.
💪 How: Eat with breakfast or meals and drink water.
Just one spoonful a day can make a world of difference. Projoy is your partner for improved digestion. Start your day on the right note, making every meal a delightful experience.

Ingred. & Nutr. Facts 

Ingredients
🌿 Experience the power of nature with Projoy's 100% Natural & Safe formula. 🌿
Probiotics [20 Billion CFU]: Lactobacillus acidophilus, Lactobacillus plantarum, Lactobacillus rhamnosus, Bifidobacterium bifidum, Bifidobacterium lactis, Streptococcus thermophilus, and Saccharomyces cerevisiae
Prebiotics [1 gram/serving]: FOS, Guar Gum, and Maltodextrin
Other Ingredients: Xanthan Gum, Milk Solids, and Vanilla
Shelf life: 18 months from date of manufacture 
Storage: Store in a cool and dry place
Nutritional Facts (Per Serving, 10 g)
Energy: 29 kcal
Protein: 2.6 g
Fat: 1.3 g
Carbohydrates: 2 g
Dietary fiber: 1 g
Added sugar: 0 g
Calcium: 37 mg
How to Use
Consume one tablespoon (~10 grams) of Projoy Probiotics powder per day, and take it with breakfast or meals.
Eat one spoonful of 

powder directly as it is and drink water

.

Alternatively, Mix the powder with your favorite beverage or

water or milk

, stir well, and enjoy!
Check out our recipe page for a variety of delicious ways to incorporate probiotics into your diet.
FAQs
Q: How does Projoy Acidity Relief Probiotic with Prebiotics help with acid reflux?
A: Our supplement is designed to soothe acid reflux and reduce heartburn by decreasing acid production in the stomach. By restoring digestive health and promoting nutrient absorption, our supplement can help to improve overall gut health and alleviate acid reflux symptoms.
Q: What are probiotics and prebiotics?
A: Probiotics are live bacteria that are beneficial to the gut microbiome, while prebiotics are a type of fiber that helps to feed these bacteria. Together, they can help to improve gut health and boost the immune system.
Q: Is Projoy Acidity Relief Probiotic with Prebiotics Safe to Take?
A: Yes! Our supplement is made from all-natural ingredients and is free from harmful chemicals and additives. It's also suitable for all ages, including children, and is easy to take - simply eat it with water.
Q: How do I take Projoy Acidity Relief Probiotic with Prebiotics?
A: It's easy! Simply take one tablespoon per day with a glass of water.
Q: When can I expect to see results?
A: Results may vary, but many people begin to notice improvements in their acid reflux symptoms within a few weeks of taking our supplement. It's important to take our supplement regularly as directed for the best results.
Share
View full details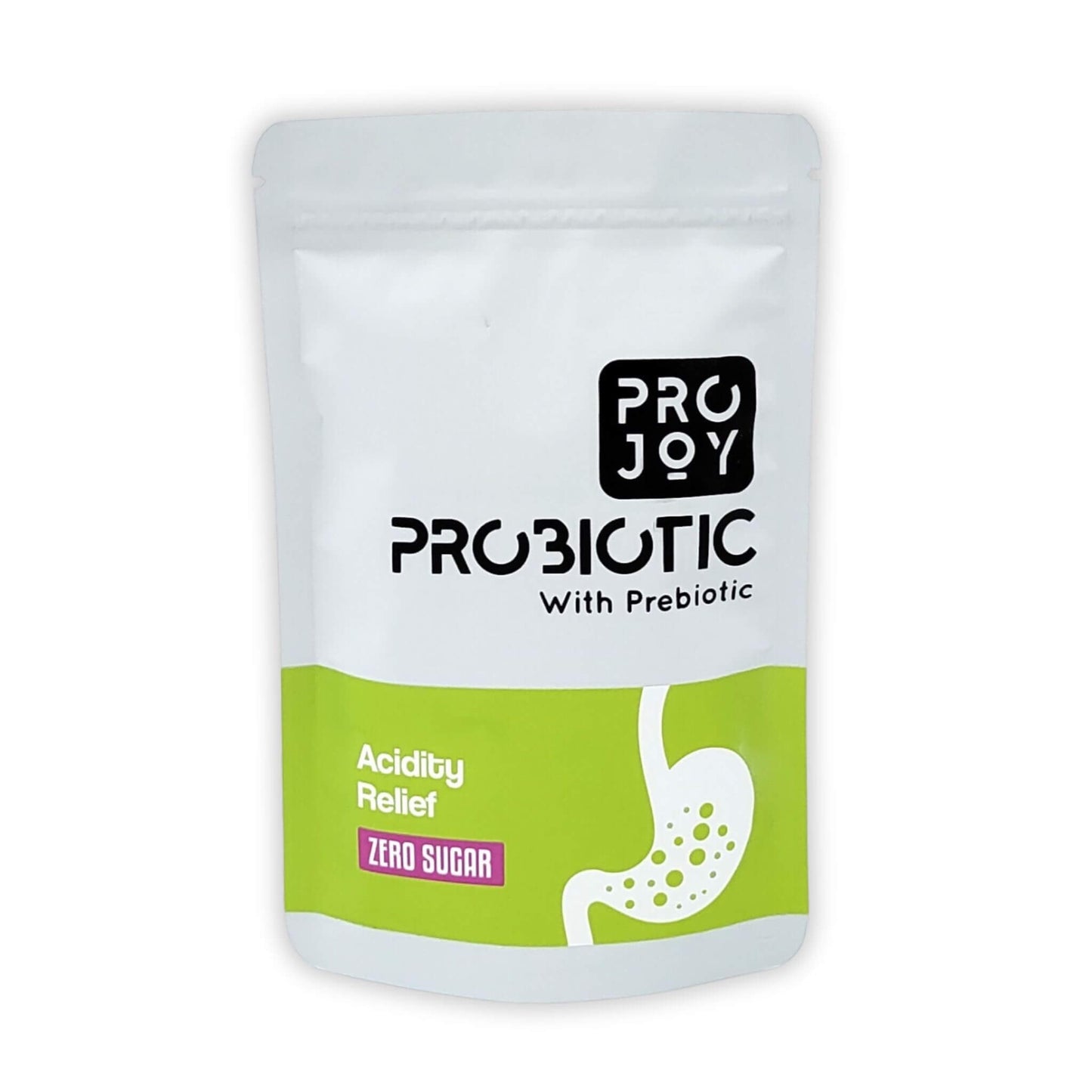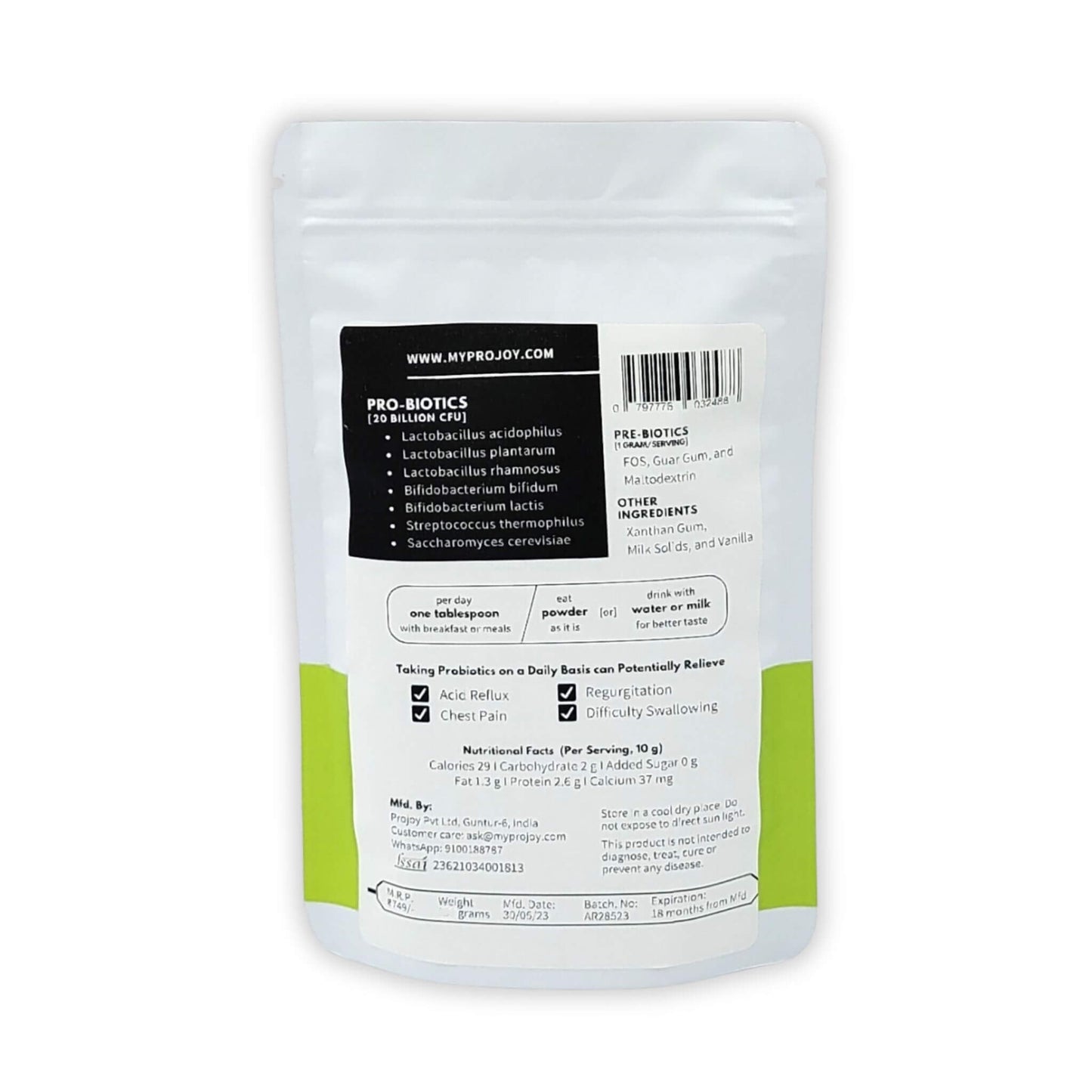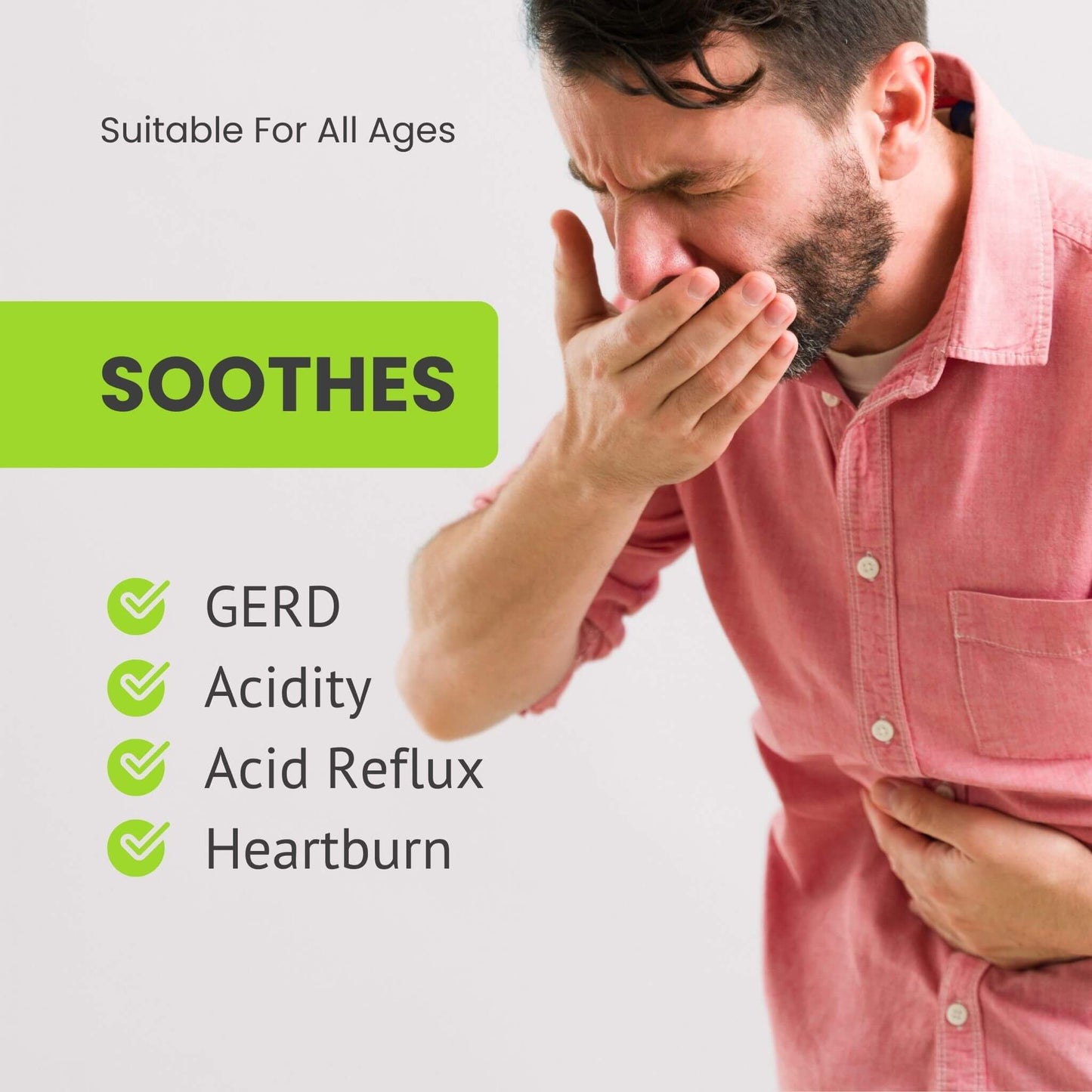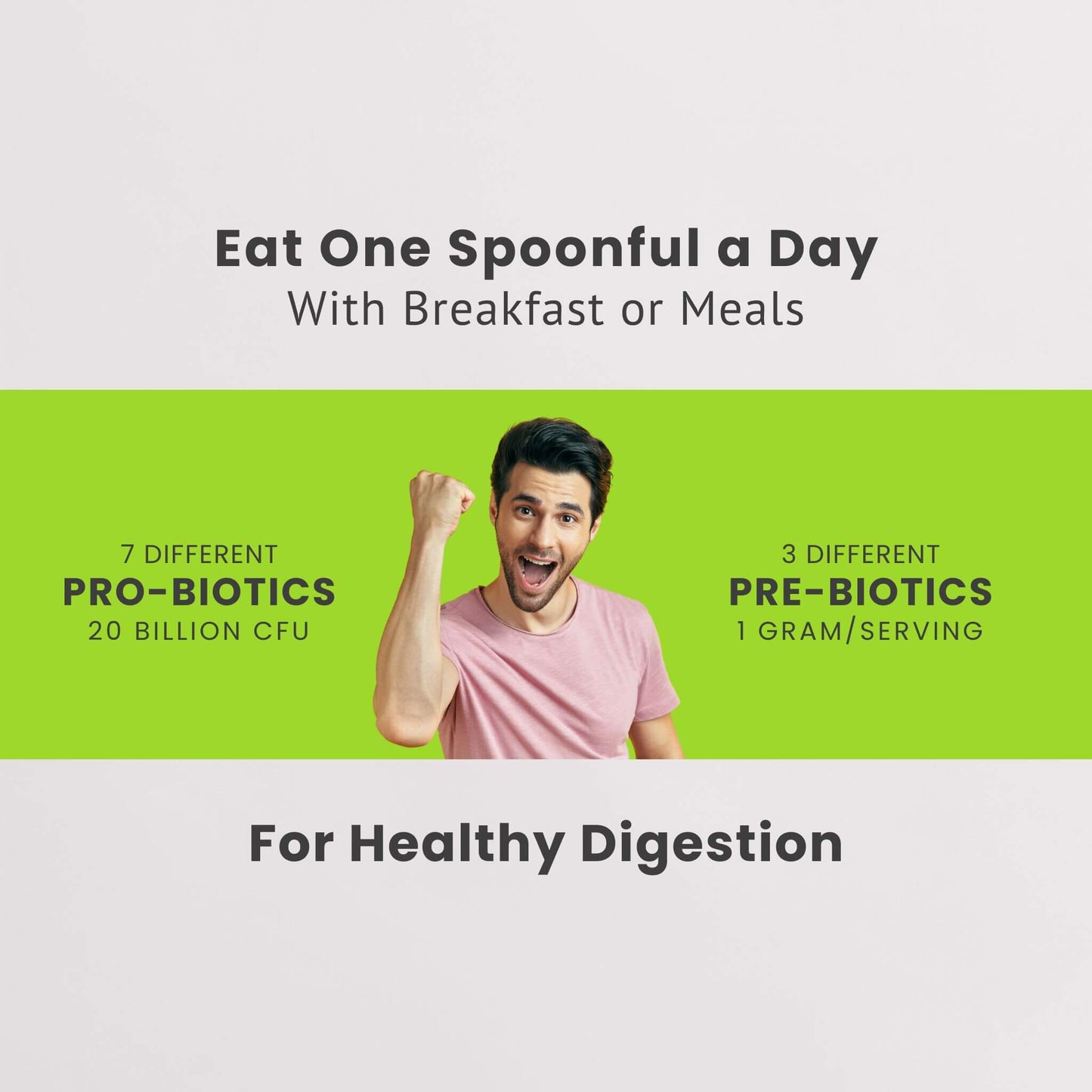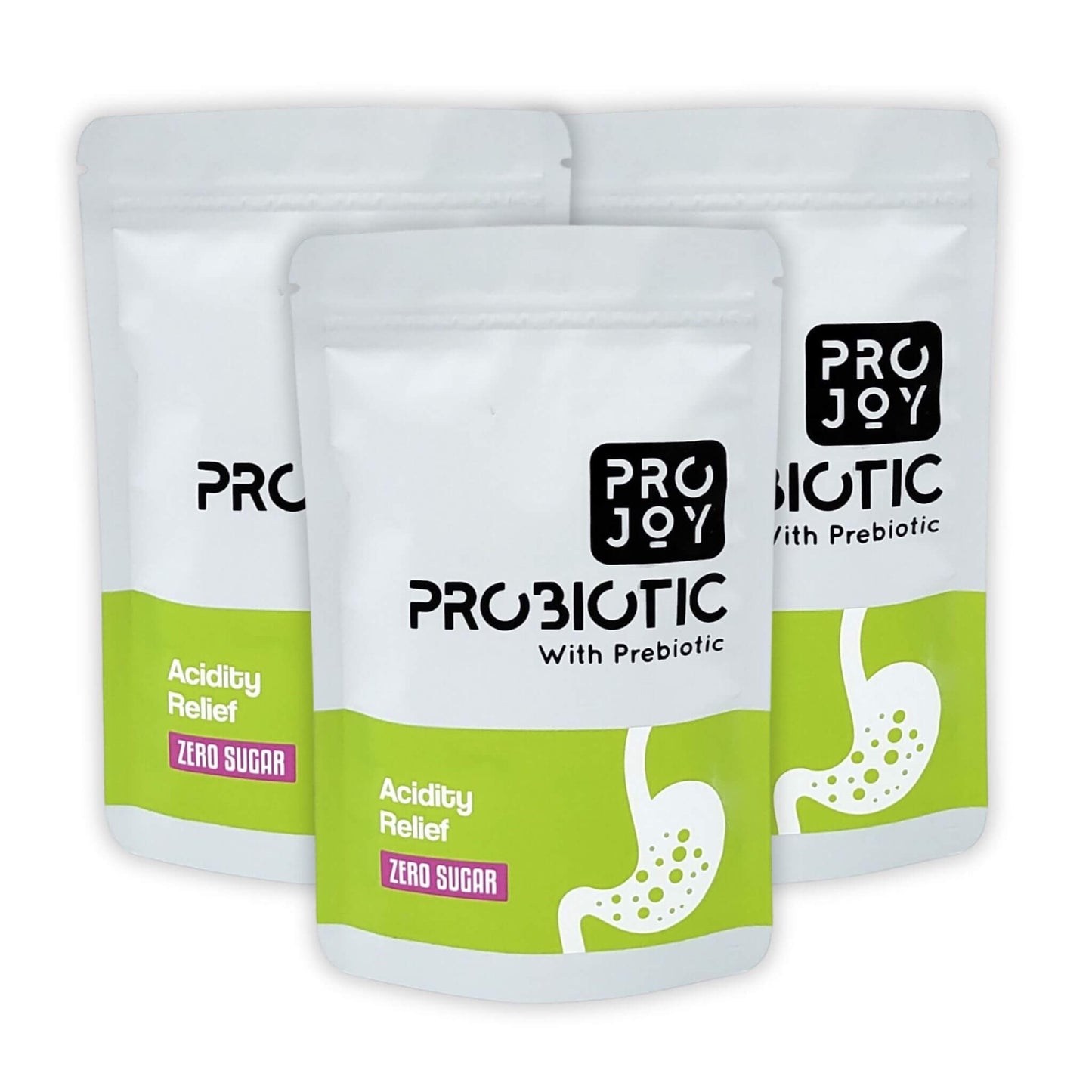 Cool product .work well for gerd
Feel Better- Hoping to be at my Best
As advised I am taking it once a day and i feel slightly better than before. I hope it helps in my recovery more
Appreciate your frank feedback. The journey to repair and restore damaged or imbalanced gut bacteria for enduring results is a gradual process. Encouraging the natural restoration of gut bacteria with the combination of probiotics and prebiotics not only enhances digestive health but also supports metabolic and immune well-being.
Projoy Acidity Relief Probiotic with Prebiotics
Enjoyed very good product. I humbly request for a discount for me.
Glad you are enjoying Projoy Probiotics. Please check your mail for a discount coupon.
Finally!!!
I consulted with a Projoy Expert prior to beginning my journey, and I understood that effectively addressing my acid reflux would require time. Through five months of consistent use of Projoy probiotics, my struggles with acid reflux is taken care.
We appreciate your review, Hardik. Generally, it takes around 3 to 4 months to see results with probiotics. However, individual outcomes differ depending on one's unique dietary choices, lifestyle habits, and other factors.
Reflux acidity
Have used one packet. Not benefitted too
Much. Have ordered another one to see if it help s by using for longer period
Appreciate your feedback. Probiotics play a crucial role in not just alleviating symptoms, but also in repairing and restoring gut health by nurturing beneficial bacteria in the stomach. As a result, the recovery window for acid reflux typically spans around 3 to 4 months.